DJ Bats:
Gothic- Industrial- Darkbeat.
Fields of the Nephilim, Dreadful Shadows, Ministry, Corpus Delecti, Garden of Delight, Merry Thoughts, Mortiis, Sisters of Mercy, The Cure, Siouxsie & The Banshees, Project Pitchfork, Clan of Xymox, Depeche Mode, Hoccico, Das Ich, VNV Nation, Suspiria, Apoptygma Berserk, Marilyn Manson, Bauhaus, God Module, Decoded Feedback, Evereve, Nine Inch Nails (NIN), Covenant, The Galan Pixs, Death In June, Sensorium, Cult
... ETC...
DJ Bats plays at The Wolfhound in Barracks Street every second Wednesday- here's the poster you might have seen around town. (Click on it.):-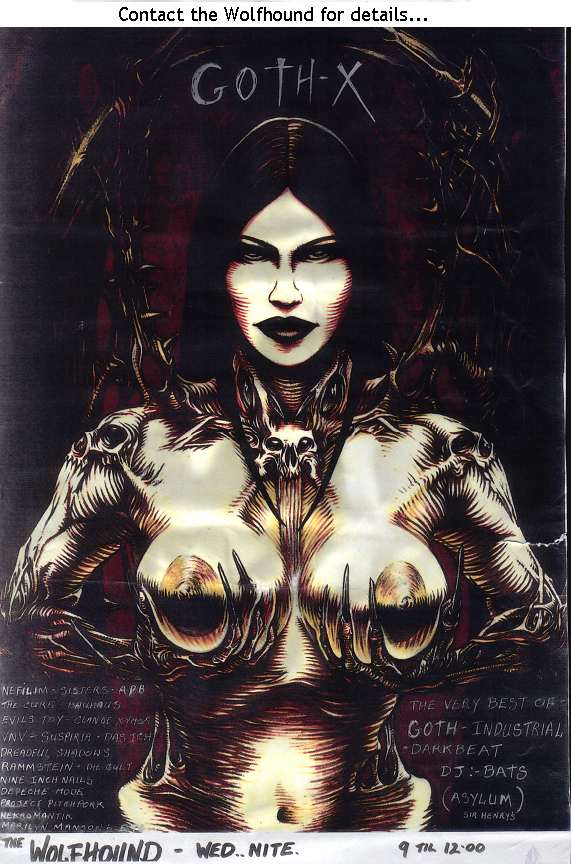 -
DJ Steve:
Metal- Alternative - Rock.
The Doors- Metallica, AC/DC, Guns N' Roses, Faith No More, Fear Factory, Rob Zombie, Rammstein, System of a Down, Black Sabbath, David Bowie, The Ramones, Motorhead, Sex Pistols
...ETC...
Questions, comments and requests are always welcome; you can direct them to me (The Poor Corrupt Official poorcorruptofficial) or the DJs on the night. It's an absolutely splendid night out, do come along!
Yours,
- The Poor Corrupt Official.